We are pleased to announce that USE Together 2.0 is now officially out. USE Together is a collaborative screen sharing solution enabling you to share your screen with all your team in real time.
Back in 2015, Screenhero, famous collaborative screen sharing tool, was acquired / bought by Slack. Two years later, there was no other standalone tool to pair effectively. Screenhero was fully shut down last December after integrating some of its features in Slack.
Last year, we launched USE Together, only available on Windows at this moment. Initially created for professionals needing to collaborate on remote desktop environments, we finally decided to release it to everyone. We also released a Mac version in closed alpha few months later. We took a different approach to what Screenhero was and before it was shutdown.
USE Together is now available in beta for Windows and Mac! This new version offers you many new features to improve your screen sharing experience.
With the previous version of USE Together, we offered a simple way to join a screen through a web browser without having to download anything nor having to subscribe to anything.
Although joining someone's screen on a web browser is pretty cool, but the experience can be limited as there are many things that just cannot be done with it, mainly for "security" reasons (hello alt-tab / cmd-tab).
We heard you and make our best to improve your user experience. We are glad to introduce our new user interface. From now on, you can invite your team to join your screen directly from your contact list.
🙏🏻
Thank you for all your support!
First of all, we thank you for helping us to improve USE Together. You were many to send us very valuable feedback. We have heard you and we decided to rebuild USE Together, to bring you a better experience. We aim to make it the best pair programming and collaboration tool in the world!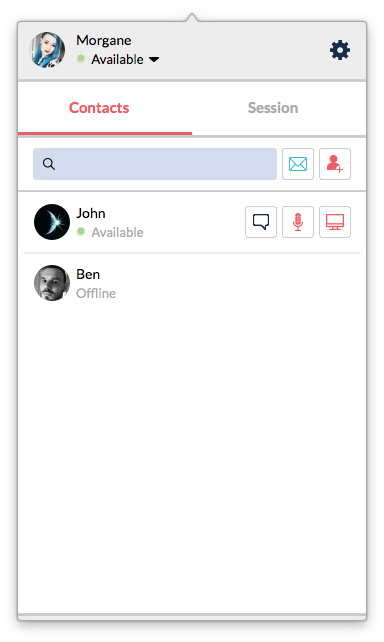 Here are the brand new features and enhancements you can try now with USE Together 2.0:
🤝
Contact list Integration
Our new interface /UI has now a contact list so you can easily keep in touch with your teammates. Now, you can know when they are online and share a screen with a single click. We also added instant messaging and audio chat to improve your ex
perience with USE Together.
👨🏻‍💻
Join someone directly from the app
With USE Together 2.0, when you share a screen with your contacts, they'll receive an invite and they'll be able to join you directly from the app, without having to launch a web browser. All keyboard combos are now supported.
🔄
Presenter swap
We build a new feature in USE Together version 2.0. You can now swap at anytime the presenter role and thus who shares their screen / app.
💻
Also available on MacOS now!
USE Together 2.0 is available on Windows and MacOS for everyone. If you're a Linux user, don't worry ! Windows and MacOS users will still be able to invite linux people with a link through a web browser.
✨
New UI and experience
We have totally revamped USE Together with a brand new UI to bring you a new, smoother collaborative experience with all the features above.
Download USE Together here!
We hope that you will enjoy sharing your screen with USE Together! 💥
If you have any questions or if you want to send us feedback, don't hesitate to contact us at contact@use-together.com.