We are excited to share a new page of our story: USE Together will become Drovio on March 18! It's still the remote pair programming tool you love, yet providing a new experience of screen sharing and for us, the beginning of an even bigger adventure:

We've surely come a long way since we started off from the ground up in 2016. Back then it was just Benjamin and me in a very small yellow-painted office who wrote the first bits of the tool. Screenhero, a Slack-owned similar app, was still around and I kept asking myself: what makes in-person and remote teamwork different? How can we make remote collaboration a breeze for all teams, with partners, with clients? How can we make the experience seamless? Two points quickly came up to the table based on a few discussions, research and the available screen sharing apps in the market:
It should be easy to get people join you on your screen.
With traditional screen sharing apps, people just watch one participant actually work. Let's make all participants plain actors.
We eventually released a Windows only version a day of July 2017 and opened it to everyone on our website. The UI was terrible, a few bugs caused major hiccups such as a whole black screen each time you started the app but eh, it was out. And we were so proud of it! That day, we even ended up doing well with our launch on Product Hunt, considering that we started from nothing. The feedback we also got from those users was a godsend and completely different from what we usually heard.
We took another year to review our copy. Meanwhile, we launched a beta version for macOS and Slack had merged Screenhero into their app, or kind of. Usage climbed up, good signals were received and still great feedback as well that enabled us to improve the app. As you'd imagined, things quickly got out of control as people from all over the world were all suddenly looking for apps to work remotely with their teams. We were busier than ever, yet we kept holding on.
Fast forward to now, we're proud to serve today more than 26k users distributed on all the continents, with a rating of 4.4 out of 5, for about 5k sessions per week, each session lasting an average of 42 minutes.
We're currently on a plain accelerating phase and we're targeting 20 people before 2021 ends.
New logo, revamped UI & new features
We've been spending the last few months working on great stuffs and I hope you'll like them. This includes a new logo for our app: we wanted something sober yet to the point and matching the big picture.
👩‍💻 Video conferencing will be part of that release as well, for up to 10 participants with any paid plan. Seeing your remote pairing/mobbing partners helps to ensure things are fully understood by all parties. The funny thing is that we had this feature in our 2016 mvp but we decided early on to focus on screen sharing and audio.
🎨 The next one is a revamped UI to accommodate with the new direction we're taking. This revamping will actually be split into two phases as there are many things we wanted to do but we didn't have enough time to. We thus focused on the major pain points you reported us, including how sessions are handled. We'll expand on that in another article.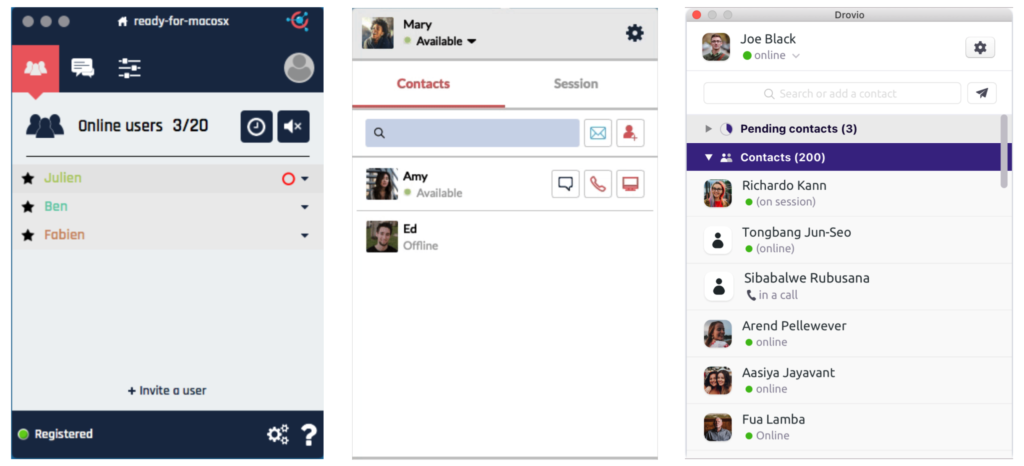 🔐 You've been waiting for it, SSO (SAML) will be supported starting from March 18 on the new Business plan. This new feature will make it easy for all your team to connect and will also simplify team onboarding a lot as you won't have to manage it anymore from the dedicated panel: when people log in using your company's SSO, they instantly get added to the team.
🐧 Last but not least, our Linux app is coming out of Alpha! We'll make it available to everyone and the feature set will be on par with what we have on the other systems.
Behind the new name
Finding a name for an Internet business nowadays is incredibly hard. Yet, I wanted to transpose the essence of USE Together into it: we want to bring teams together, let them move forward on any task, any project, whatever the distance, whatever the tools/apps they use on a daily basis. USE Together lets teams escalate from blabla to action in no time, without any friction.
Considering that, I spent some times looking for words or synonyms that could convey the main idea, but the trickiest part was yet to come:
We needed a name that could be registered as a trademark in most countries.
As we learned the lesson the hard way with USE Together (or Use-together), I ensured to look for a short name, one word, 5 to 6 letters.
Another must-have is a name that can be mostly spelled the same way in most languages.
I eventually came upon drove/droves: a large pack of people who are united, moving forward together with one goal in mind. A few combinations and whois queries later, we eventually registered drovio.com.
New pricing
We've decided to do a little cleanup in our pricing and bring in more value to our paying users. The first step was to merge both our actual paid plans, Pro and Premium. For the record, the Premium plan allowed users to join sessions of other users who were on a free plan and get unlimited remote control during the session. Actually, only a fraction of paid users was on that plan.
We'll also be adding a new plan to our offer, designed for large teams that includes SSO support, a dedicated customer success manager and later, new enterprise-oriented features and services.
Both our new paid plans will allow you to do sessions with up to 10 participants ( vs 4 participants before).
The last change is on our free plan. Remote control is still limited to 30 minutes per day, but the number of participants per session will be limited to 2 and the feature set will also be limited.
Here's what it will look like on March 18:
Basic plan - free: up to 2 participants, remote control is limited to 30 minutes.
Standard plan - $15/mo or $150/yr (13€/mo or 130€/yr): up to 10 participants, remote control is unlimited on any session (even when on free user screens), spotlight, session record.
Business plan - $30/mo or $300/yr (26€/mo or 260€/yr): what's in the Standard plan + SSO and a dedicated customer success manager. This plan will only be available with the new fair billing model.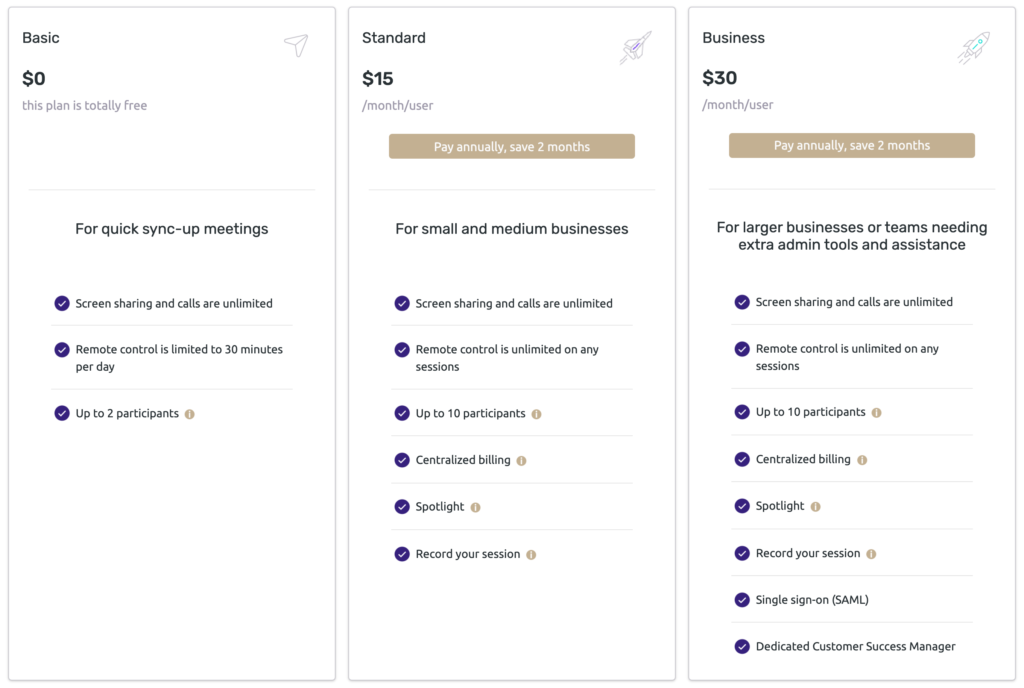 On March 18, every user on a paid subscription, be it Pro or Premium, will get their subscription upgraded to the new Standard plan at no additional cost for the rest of their billing cycle.
To be clear, if you're on a Pro monthly subscription today, you'll automatically benefit from the upgrade (up to 10 participants, unlimited remote control on any session, even with free users) and you will only be charged the full amount on your renewal date. It also means that if you switch to a yearly Pro subscription before March 18 for you or all your team, you'll actually get a discount of up to 33% off for almost one year!
Fair billing policy
We've also decided to bring in a fair billing policy à la Slack for all teams. I deeply believe this should be the norm for any SaaS business and that users should only get charged for what they really use. Managers, VPs, C-levels have to deal with a ton of SaaS subscriptions for all their teams and one question often comes back to surface: do my teams actually use that app we're paying thousand of dollars for each month?
We could have implemented a ton of graphics that you would still have to periodically review, but we value your time and your people too much for that.
Here's how our fair billing policy will work:
We'll charge you for a minimum of one seat.
When you add a member to your team on the platform, their initial status is inactive and we don't apply any changes to your subscription until they start using the app.
We'll automatically detect when members in your team become inactive (ie. when they stop using the app for 30 consecutive days) and your account will get credited for the unused time.
When a member starts using the app again or for the first time, your subscription will get adjusted at most once per month: at the end of the month if you're on a monthly subscription or once per month (same day than your renewal date) when on a yearly subscription.
Current teams will have the choice to either migrate to the new fair billing model or stay with the current one. The new fair billing model will require you to select one plan for all your team whereas the current one allows you to mix plans. The Business plan that includes SSO will only be available with the fair billing model. When you migrate your team to the new billing model, all your team members become inactive until they use the app again.
🤗 From all the Drovio team to all of you, thank you for your support, thank you for all the feedback you shared with us during those years. This has been an incredible journey for us, thanks to you. There's a lot of great stuff coming up this year besides what is exposed above and we're eager to share that with you all.
📩 Meanwhile, be sure to reach out to us at contact@drovio.com, should you have any questions or just want to say hi.